Ladies and gentlemen, this is the first episode of Ask The Aquaponics God. Here, we're going to answer a lot of the common questions that are out there. We're going to help out a lot of the beginner aquaponist trying to get started in this wonderful practice of aquaponics, and we're just going to clear a lot of things up. We want to prevent people from becoming a biscuit headed aquaponist; meaning somebody who is just out there doing whatever they want and not sticking to any of the guidelines that nature, physics, and chemistry has set in place. I was a biscuit headed aquaponics back in the day when I didn't have any experience.I was just out there experimented with all types of things here and there, but now i'm a season vet with a desire to provide as much value to you as possible in aquaponics. Here is the first question in there series.
Q: I'm interested in starting my own aquaponics farm and I want to know which part of aquaponics is most difficult to learn?
- Jared
A: To answer this question is really going to rely on one main factor and that is how much experience you have on the various aspects of aquaponics. In aquaponics we have certain functions such as plant management nutrient management, water quality management, building, engineering, construction, and designing. You have these different aspects that all are comprised together to come up with the aquaponics method of farming. If you're someone who has a background in biology and chemistry or any one of those sciences then the plant portion is not going to be a problem to you and you're going to have an easy time understanding concepts of plant development. For instance, if you don't have a background in building or designing then that portion is going to give you the most difficult time. You'll have to learn how to use a hammer, nail, use a drill, understand design and construction principals; all sorts of fun stuff!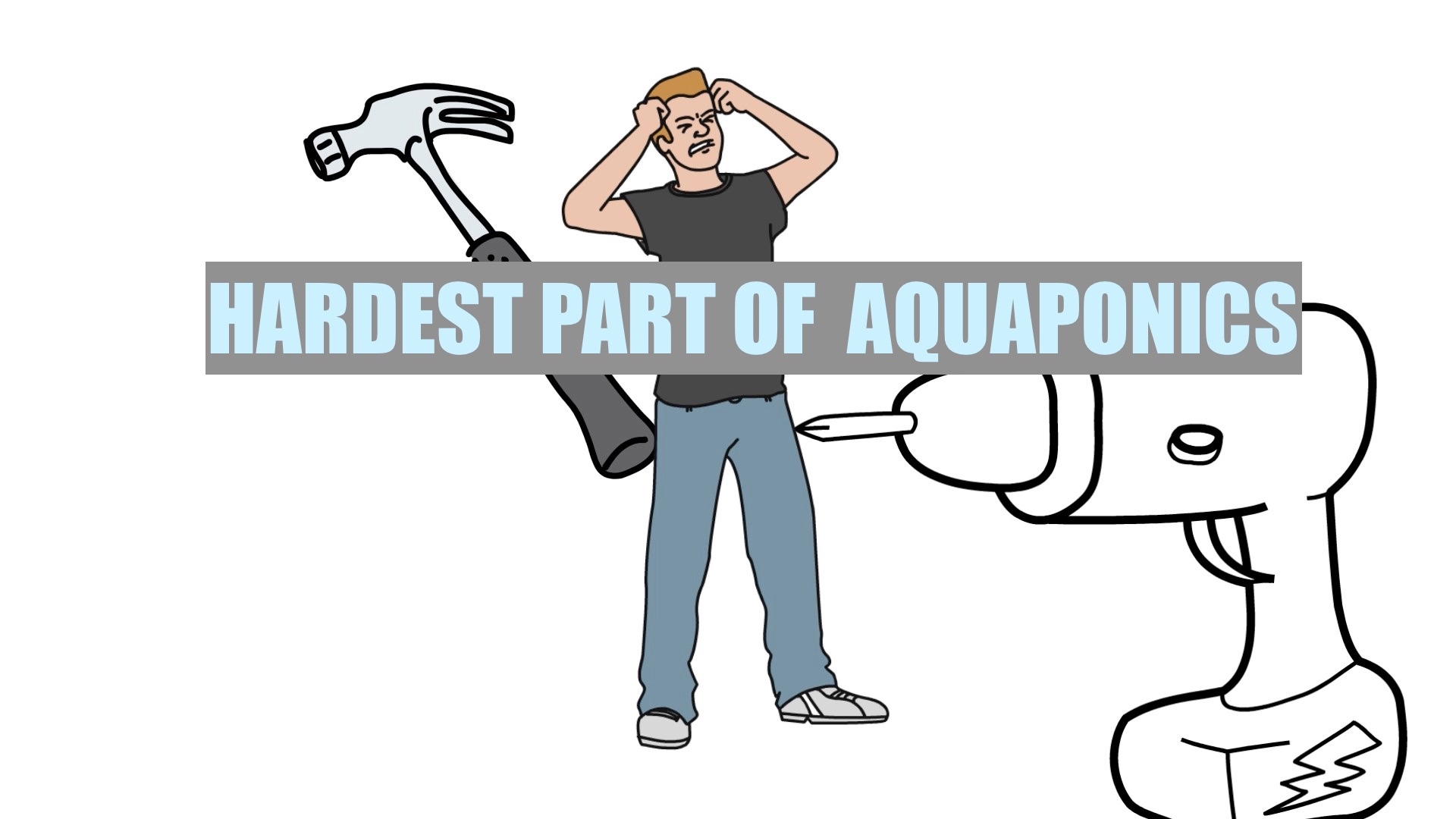 My Biggest Challenge With Aquaponics
For me the biggest challenge was the building portion because I had never lifted up a hammer in my life. I'm a city guy from Las Vegas Nevada and manual labor with tools was something we didn't grow up doing. I'm super glad that I tackled this portion of aquaponics first because it was the biggest challenge for me. I had to learn how to use a circular saw, jig saw, and learn how to use a variety of other tools. I had so much of a passion for aquaponics that it didn't bother me that I had to learn many things that I never learned before. I decided that I wasn't going to make any excuses. I went and purchased the tools and started watching other videos to figure out how to use them so I could get started.
You Can Do It!
I'm now an aquaponics god, and you can be one too. All you have to do is apply yourself. It really doesn't matter what aspect is the most challenging. What matters is how much effort you willing to put in to learn and master your challenges. In life, there's always some learning curve that we all have to experience, but it's also pleasant on the other side once you learn. Eventually it will all becomes second nature to you. Just remember that nothing is too difficult to learn if you're willing to apply yourself.
Don't forget to share the post and leave us a comment
Brooklyn Saint Mickell